Promote scar-less healing and natural collagen production for more beautiful skin.
Get smoother, brighter, clearer skin with DermaPen – the world's most advanced skin needling technology. Skin needling is a collagen-boosting treatment that smooths away wrinkles and fades acne scarring and stretch marks.
Boost your body's natural regenerating properties with skin needling, the safe, painless, effective non-surgical way to achieve beautiful, flawless skin.
Skin needling, or Collagen Induction Therapy (CIT), stimulates your body's natural healing process to produce more collagen to improve skin texture, tone and elasticity. It can greatly reduce:
Wrinkles

Smoker's lines

Enlarged pores

Scars (acne, burns, surgical)

Stretch marks

Skin damage & pigmentation
Full Face 3 Treatment Package

$750

Full Face & Neck 3 Treatment Package

$900

Decolletage & Neck 3 Treatment Package

$900

Face Neck & Decolletage

$550

Face, Neck & Dec 3 Treatment Package

$1200

Add on skin boost mask to any skin treatment

$25
Who Is Suitable for This Treatment?
Skin needling is a suitable treatment for all skin types and skin tones. It's an effective treatment for people looking to improve the condition of the skin and treat a range of skin concerns. 
The procedure can improve pigmentation, uneven skin tone, acne scars, wrinkles, fine lines, and other visible signs of ageing. Skin needling is typically used to treat the face, but it can also be used on the neck and decolletage.
How it works.
DermaPen is a painless, non-invasive procedure that uses Advanced Oscillating Vertical Needling (AOVN™) technology with disposable tips, each containing surgical grade stainless steel Microderm needles that painlessly penetrate the skin, creating micro-channels.
This stimulates collagen-producing cells and allows the active ingredients of topical products to penetrate deeper into the skin for more intense rejuvenation. 
As a result, your skin's appearance takes on a natural glow, and scars and wrinkles naturally fade away.
While more invasive skin rejuvenation treatments remove or damage the top layer of skin, skin needling penetrates the deeper layers of the dermis without causing damage to the top layer. This allows for faster healing and deep collagen stimulation without the side effects associated with ablative procedures. 
Skin needling treatments take around 30 minutes in clinic, depending on the size of the area being treated and if numbing cream is required.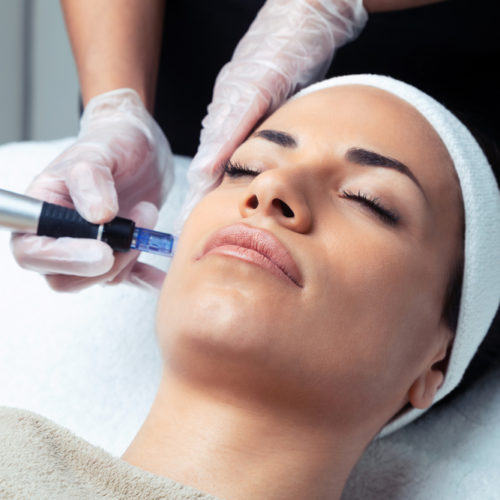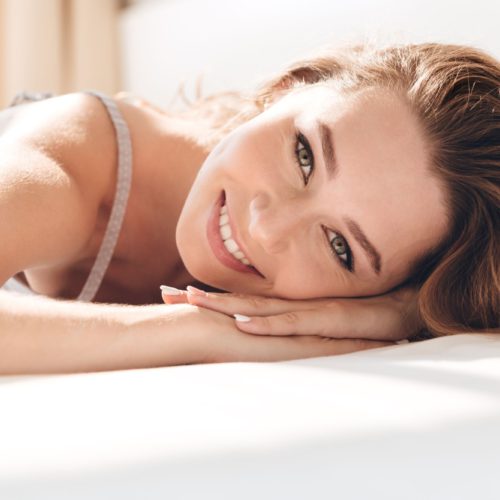 How Soon Will I See Results From Collagen Induction Therapy?
Most people see an improvement after the first treatment, with significant regeneration and revitalisation occurring after 3 to 6 treatments for very damaged skin.
Some clients can benefit from a Sublative RF treatment for more stubborn, deeper set skin concerns. 
You'll see the best results around 6 to 8 weeks after treatment when your collagen begins to rebuild.
After that, better tone, texture and elasticity will be increasingly visible over the next 12 months. 
How Long Do Microneedling Results Last?
The longevity of results can vary from person to person.
A series of treatments spaced 2-6 weeks apart is usually recommended to achieve the best results.
For most clients, the visible effects of new collagen and elastin production remain visible for up to 1-year post-treatment.
Your clinician may recommend that you return to the clinic for a follow-up session every 6 months to maintain your results. 
Does Skin Needling Hurt?
Although we apply a numbing cream to the treated area 30 minutes before skin needling, sometimes there is still discomfort.
However, some people comment the procedure is very tolerable – so it may depend on your pain threshold.
Do I Need To Do Anything To Prepare for a Microneedling Session?
Your b clinic practitioner will advise you on what to do to prepare for a skin needling treatment. You may be advised to stop taking ibuprofen or aspirin the week before the procedure to minimise the risk of any side effects. Topical retinoids can also increase the risk of side effects from treatment. 
What Can I Expect After a Treatment?
There is little downtime required for this treatment. Immediately afterwards, your skin may appear red and slightly tender, much like a mild sunburn. 
We offer a complimentary application of Oxygenetix foundation to camouflage this redness – it also contains properties to soothe and heal your skin.
The following day, your skin may appear light brown. Some people may experience a light shedding or peel.
Most clients do not need to take any time off work or miss out on social activities following skin needling. Once the treatment is complete, you can return to your normal daily routine. 
How Many Treatments Will I Need?
The number of treatments required will depend on the skin concerns you want to treat and the results you want to achieve. 
For example, fine lines and other superficial skin concerns typically require fewer sessions than deeper wrinkles and scarring. 
Your clinician will examine your skin during your free consultation at b clinic and recommend a series of 3-6 treatments to achieve your desired results.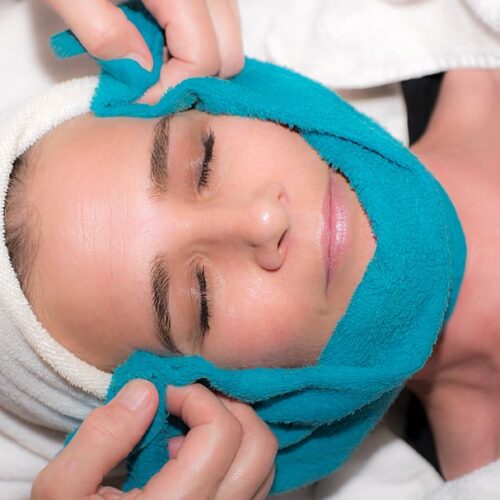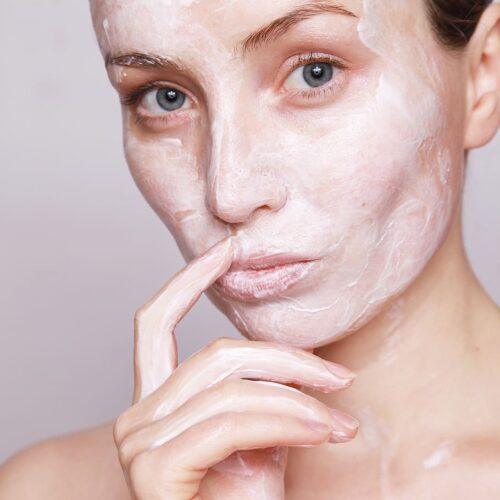 What Is the Difference Between a DermaPen and Derma Roller?
A derma roller is a skin needling device that uses a rotating wheel with tiny microneedles to puncture the skin.
The needles cannot be adjusted and pierce the skin at a single depth. 
Derma rollers can help stimulate collagen and elastin production and treat superficial skin concerns, but they do not penetrate deep enough to provide dramatic rejuvenation results. 
DermaPen is the most advanced skin needling device available in Australia.
While derma rollers move horizontally across the skin, the DermaPen delivers the microneedles vertically, triggering the body to produce more collagen by penetrating the deeper layers of the dermis.
It can be used to treat harder to reach areas around the nose, mouth, and eyes. 
Can Skin Needling Treat Acne Scarring and Stretch Marks?
Skin needling is one of the most effective non-invasive treatments for acne scarring and stretch marks.
A series of treatments can provide a significant improvement by boosting collagen production and repairing the soft tissue.
Indentation is reduced, and the skin area appears smoother and more even-toned.


Is Microneedling Safe?
Yes. Microneedling is safe when it is performed by a trained professional in a clinical setting.
However, the procedure makes tiny puncture wounds in the skin, so it's vital that the skin is prepared correctly before treatment and sterile equipment is used.


Possible Risks and Complications
The most common side effect after a DermaPen skin needling procedure is mild skin irritation in the treated area.
There is also a potential risk of mild swelling, redness, and flaking of the skin. In rare cases, bleeding may also occur.
There is a risk of serious side effects, including infection if the skin needling device is not sterile before use.
It's important to choose a reputable cosmetic clinic experienced with skin needling to minimise the risk of any side effects.
Please book a free skin consultation with one of our experienced skin nurses and dermal therapists to learn more about this treatment or see if you are an ideal candidate.