Erase the past, and let's make new memories.
At b clinic we use both nanosecond and picosecond lasers, which are internationally recognised as the safest and most effective for fading and removing tattoos.
Combine our highly trained staff and state of art technology we offer higher success rates in almost every coloured ink, with minimal negative side effects and scarring than any other forms of tattoo removal.
Lasers both nanosecond and picosecond machines need to emit high energy, short lived pulses that aim to shatter tattoo ink particles on contact, this is known as a photo acoustic effect. This breaks the ink down into tiny particles which allow them to now be absorbed by the body's immune system.
We use 3 different laser wavelengths at b clinic, and this allows us to treat a variety of different ink colours in tattoos. Our Revelite and Picosure lasers are 2 of the best in the industry. Our Q-switch Revelite with 1064nm wavelength with nanosecond technology is the gold standard for removing black and darker coloured ink. Our Alexandrite Picosure with 755nm wavelength and picosecond technology is the next generation of lasers on the market and now we can treat colours once previously not touched by the nanosecond 1064nm, these include green, blue and purples. Both lasers have 532nm wavelength which can effectively treat red, orange, and pinks.
Laser can completely remove a tattoo or fade for a cover up or modification. Complete tattoo removal is dependent on multiple factors and not always achievable. You will need a comprehensive consult to see if this can be achieved for you. Healing ability, age, size, density and location of tattoo all effect the overall outcome and amount of treatments required for maximum results.
Tattoo removal is a multiple treatment process; usually average 4 – 14 treatments are required, depending on the tattoo. Amateur tattoos and tattoo fading require fewer treatments, and darker denser tattoos located on lower extremities sometimes require more treatments.
Cosmetic tattoo can also be removed and faded as well; at b clinic we can treat brows, lips and areola. These types of tattoos have a higher risk of oxidising (darkening/ greying), so a test patch is always required to see if it is suitable for treatments.
Numbing cream can be applied prior to treatment and a Zimmer (cooling device) is used during treatment to provide comfort. Aftercare is just as important as your treatment so you will be provided with extensive aftercare information to follow to maximise your results.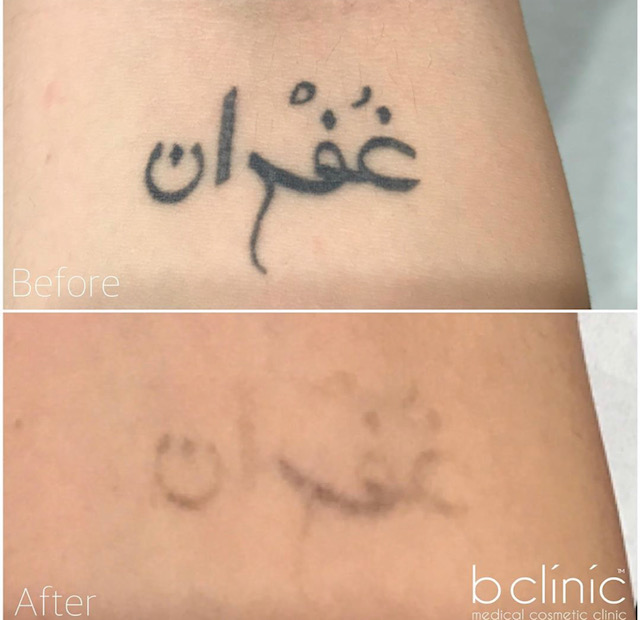 Book a complimentary consultation with one of our experienced and qualified laser technicians to discuss your laser tattoo lightening/removal plan or to read more information about this treatment click here.