An eyelid procedure removes the excess skin of your eyelids for a brighter and younger appearance.
As skin becomes less elastic with age, the eyelids can appear to droop and make you look older than you truly are. 
Eyelid procedure is a minimally invasive procedure performed under local anaesthetic.
Your doctor will make an incision within the upper eyelid crease or hidden below the lower eyelashes to remove loose skin. The incision is closed using fine stitches.
This procedure can rejuvenate your appearance by making the eye area look firmer and fresher. 
Eyelid Surgery

Starting from $2200
Who Is Suitable To Have This Treatment?
You may benefit from the eyelid procedure if you have excess skin and a tired, heavy appearance in the eye area.
This procedure corrects droopy eyelids by removing excess skin that causes the upper eyelid to sag.
You may be a candidate for eyelid procedure if you have loose or sagging skin that causes you to look tired or older than you truly are. In some cases, the excess upper eyelid skin can interfere with vision. 
An ideal candidate for this procedure is in good overall health and does not have any medical conditions that could hinder the healing process.
Your b clinic doctor will be able to advise if you are a suitable candidate during your free consultation.
What to Expect
The procedure is carried out under local anaesthetic.
Your doctor will remove excess skin from the upper lid. Small vessels will be diathermied or lasered to minimise bleeding.
The two edges will be sutured together to close the wound.
Part of the incision will be a continuous stitch anchored with flesh coloured tape above the eye with tiny interrupted sutures at the outer edge.
The incisions for eyelid surgery are strategically placed within the eyelid's natural contours to conceal any noticeable signs of surgery. For upper eyelids surgery, the incision to remove excess skin is made within the eyelid's crease. 
Lower eyelid procedure incisions are usually made just below the lower eyelash.
Excess skin is removed to correct the lower eyelid and achieve a more youthful and fresher appearance.
During your free consultation at b clinic, your cosmetic doctor will determine the most appropriate technique to achieve optimal results. 
The eyelid procedure results appear gradually over the weeks following treatment as any swelling and bruising subsides.
This procedure has high patient satisfaction, with most people very pleased with their rejuvenated appearance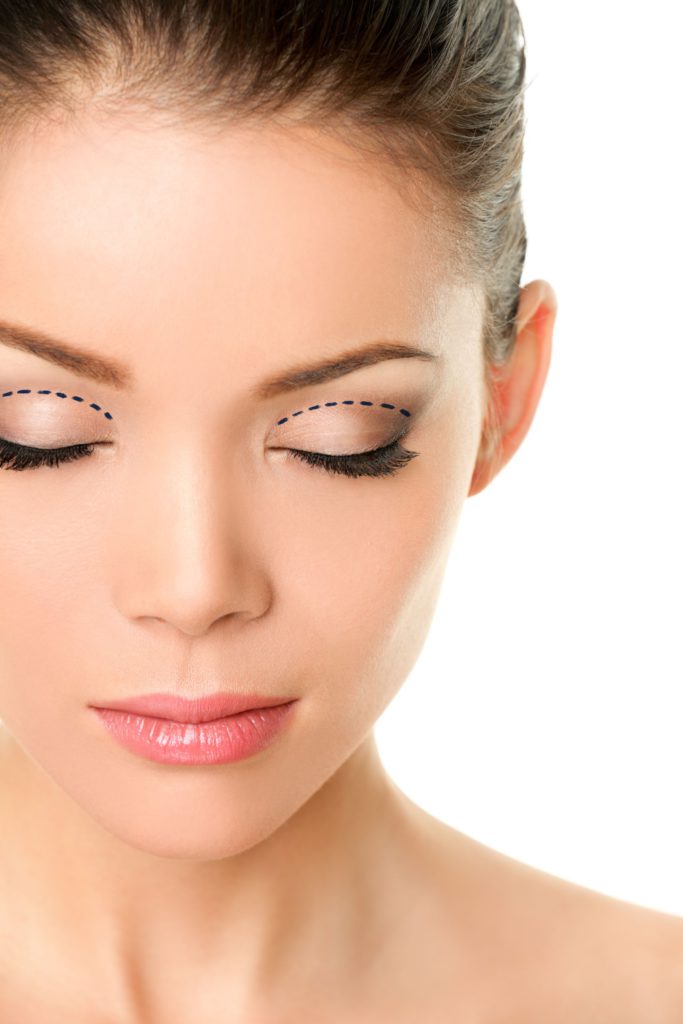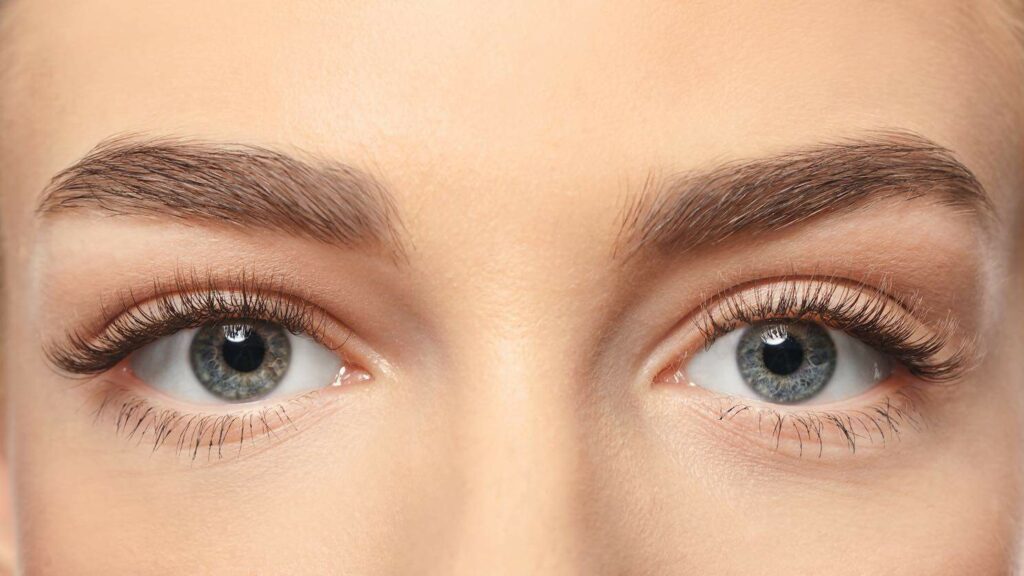 When Will I See the Results From the Eyelid Procedure?
It can take a couple of weeks for the swelling to subside before you can see the results following the eyelid procedure.
You can expect the results to continue to improve over the first 6 weeks post-procedure.
At this stage, your eyes will appear refreshed and rejuvenated. 
Is Eyelid Surgery Permanent?
The results from eyelid surgery are long-lasting.
You can expect your more youthful and refreshed appearance to last for many years.
Once the excess skin has been removed, it will not come back. 
However, skin loses elasticity with age and can start to droop and hang down again.
A single eyelid treatment achieves the desired results for most patients, and there is usually no need for additional treatments. 
Is There Any Downtime?
Immediately after the procedure, you may experience pain in the eye area.
You can also expect bruising, swelling and tenderness.
Sutures will be removed on the 5th-7th day post-procedure.
Will I Need To Take Time off Work After the Eyelid Procedure?
This procedure is not a major cosmetic surgery, but you will need to take some time off work to recover. For most people, you will be able to return to work after 7 days. If the procedure involves lower eyelid incisions, you may need around 14 days to recover before returning to work. 
You can expect any swelling and bruising to subside within 7 to 10 days. It's important to protect the eyelids from sun exposure during this time and avoid strenuous exercise and activities that could increase the risk of swelling and side effects. 
How Long Do Stitches Stay In After Eyelid Procedure?
Stitches are removed during your treatment review 5-7 days after your eyelid procedure. There will still be some bruising and swelling at this time. You will need to follow post-operative aftercare instructions to aid the healing process and achieve the best results possible. 
Is There Much Scarring After Eyelid Procedure?
As with all procedures, there will be some initial scarring. However, eyelid procedure scars are usually concealed by the natural crease of the eyelid. The scarring will fade as the area heals following treatment. Within a few months, there will be no noticeable signs of surgery. 
How Should I Prepare for the Eyelid Procedure?
You should be in good overall health before the eyelid procedure. Your cosmetic doctor will recommend stopping smoking for 1 week and avoiding alcohol consumption for 48 hours before the procedure. 
Your doctor will discuss the requirements during your consultation. You may also need to stop using eye drops and not wear contact lenses in the week before treatment. On the day of the procedure, you will need to have someone drive you home after the procedure. 
Will I Be In Pain?
A local anaesthetic is used to numb the area before treatment so that you won't feel any pain during the procedure. After the procedure, you will experience some bruising and swelling in the eye area for a few days. You can use over-the-counter painkillers to minimise any discomfort during the recovery period.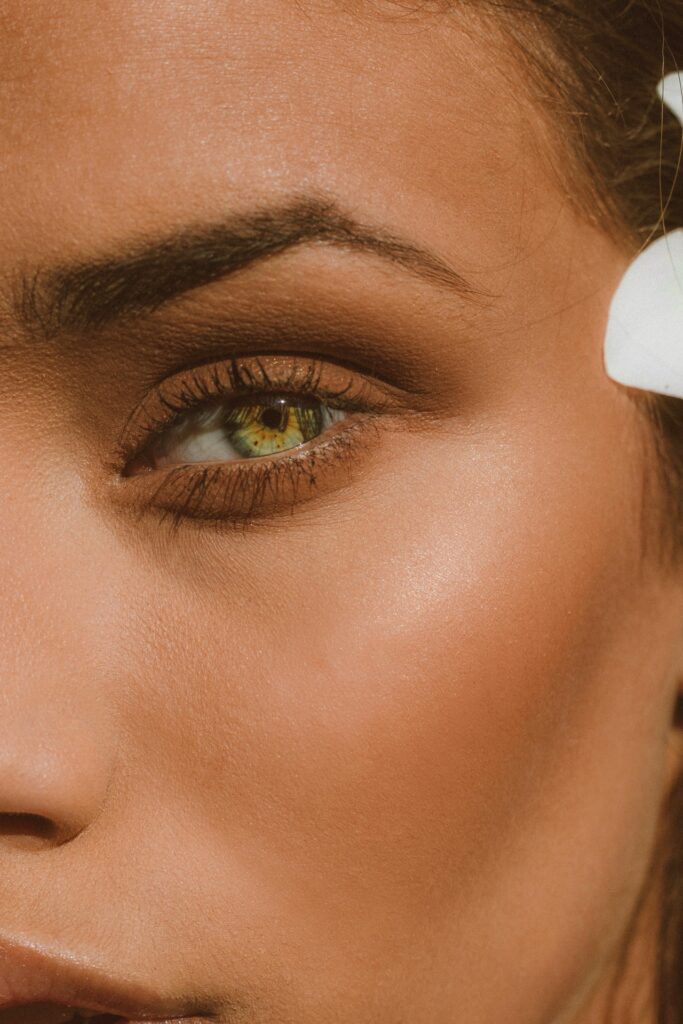 Can I Drive Myself Back Home?
You will not be able to drive yourself following eyelid surgery. You should arrange for someone to drive you home from the clinic on the day of the procedure.
You will also need someone to drive you back for your post-operative review on the 5th day after treatment. 
What Is the Best Age To Have Eyelid Surgery?
Some people can benefit from blepharoplasty surgery in their 30s, but most patients are in their 40s and 50s.
The ideal candidate for eyelid surgery is someone who is concerned by the appearance of their eye area and is unable to achieve desired results from less invasive treatments like dermal fillers and anti-wrinkle injections. 
When Can I Use Contact Lenses After Eyelid Surgery?
You should avoid wearing contact lenses after eyelid surgery to allow the skin and tissue of the eyelids to heal.
For upper blepharoplasty, you should wait for 7-10 days before resuming contact lens use.
For lower eyelids plastic surgery, you should wait for 14 days before wearing contact lenses. 
You may find it more comfortable to limit contact lens use for 6-8 hours per day for the first few weeks following blepharoplasty surgery. 
When Can I Travel After Eyelid Surgery?
You should be able to attend your first post-operative eyelid surgery consultation 5 days after surgery.
There is no issue travelling by car, but we recommend avoiding air travel for up to 3 weeks following your surgery.
It's also a good idea to avoid long-distance travel during the recovery period so we can quickly address any concerns you have about the surgery. 
What Are Alternatives to Eyelid Surgery?
Blepharoplasty is the most effective treatment for droopy eyelids and significant skin laxity.
However, if the symptoms are less severe, you may benefit from non-surgical alternative treatments. 
For lower eyelid concerns, dermal fillers and laser resurfacing can replace lost volume and stimulate cell renewal and collagen production to rejuvenate the lower eye area. 
For the upper eyelid, a non-surgical brow lift using dermal filler can provide natural-looking results and significantly improve the upper eye area.
Many people can also improve the appearance of the eye area with anti-wrinkle injections. 
These treatments do not provide the dramatic results of a blepharoplasty but may be a viable solution for some patients.
Your clinician will assess the area during your free consultation and recommend the best treatment to help you achieve your aesthetic goals. 
Is Eyelid Surgery Safe?
Blepharoplasty is a safe cosmetic procedure when performed by an experienced doctor.
There are risks involved with all surgical procedures, but serious complications are rare.
It's important that you attend a consultation with your surgeon so they can examine the area and discuss your medical history to see if you are a viable candidate for surgery.
It's also an opportunity for you to ask questions and raise any concerns you have about the procedure. 
Where Are the Incisions Placed?
The incisions for the upper and lower eyelids are strategically placed to minimise any noticeable scarring. For the upper eyelid procedure, the incision is hidden in the natural contour of the skin. 
For the lower eyelid procedure, the incision is usually placed on the outside of the eyelid underneath the eyelashes. In some cases, the incision is placed internally in the pink area of the eyelid. 
Any noticeable signs of incision will fade over time as the area heals. 
Will the Eyelid Procedure Affect My Vision?
The eyelid procedure will not affect your vision. For the first few days, you may experience some vision issues due to swelling. This should clear within the first week of recovery. 
If you have significant loose skin that is obstructing your field of vision, you may find that you can see more following the procedure.
Possible Risks and Complications
Upper and lower eyelid treatment is safe when performed by an experienced doctor. But there are risks involved with every surgical procedure.
Common side effects can include temporary swelling, bruising, and dryness of the eyes.
More serious complications are rare but can include post-procedure infection, keloid scars, numbness, and difficulty closing the eyes.
This is not a complete list of possible complications, as your medical history may increase the risks of side effects occurring.
It's important that you attend a consultation with your doctor to see if you are a good candidate for this procedure.
How Much Does Eyelid Procedure Cost?
The cost of the eyelid procedure starts at $2200. Every eyelid treatment is different, and costs can vary depending on the severity of the skin laxity and other factors.
To receive a free treatment plan and quote, schedule a free consultation at b clinic today.